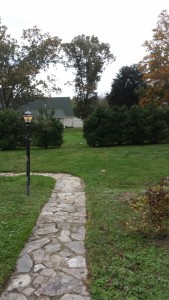 Did you get your 90 Day Focus Plan done? It's important to get your plans and ideas out of your head and onto paper. It's amazing how much more you'll accomplish when you spend the time visualizing it after getting it out of your head and organized. Click here to read last week's blog How Do I Create a 90 Day Plan.
So now that you've created your 90 day plan, you need to integrate it into your daily work. Plus, there are still all the normal activities that need to be accomplished. One of the easiest ways to do this is to create a Daily/Weekly Placeholder Plan. This provides you with the high level structure to organize your work. It will also help prevent the constant moving from crisis to crisis, while allowing you the flexibility to respond to something that truly needs immediate attention.
To create your Daily/Weekly Placeholder Plan the first thing you need to do is make a list of your normal activities/tasks that you do on a weekly basis. Remember to include client work and networking.
After you have the list, group similar items into categories and estimate how much time you spend, or want to allocate for each category on a weekly basis. Then note if they are daily, weekly, bi-weekly or monthly items. You'll only enter the daily & weekly categories on your plan. You may want to note them on the bottom of the plan so you remember that you have some bi-weekly or monthly items. You'll add them to your calendar when you do your weekly planning.
Once you have the categories and the estimated time you want to reserve, you can lay them out on your placeholder plan. Click here to download the template.
As you begin to lay out the categories, you also want to take into account when you are the most creative and productive. Generally people are most productive on Monday as well as Tuesday mornings. So I recommend reserving Monday for writing and planning. If your most productive times are different, then you'll reserve the time slots that make sense for you.
Here is what my placeholder plan looks like this. You'll see I have blog writing time reserved along with additional time slots.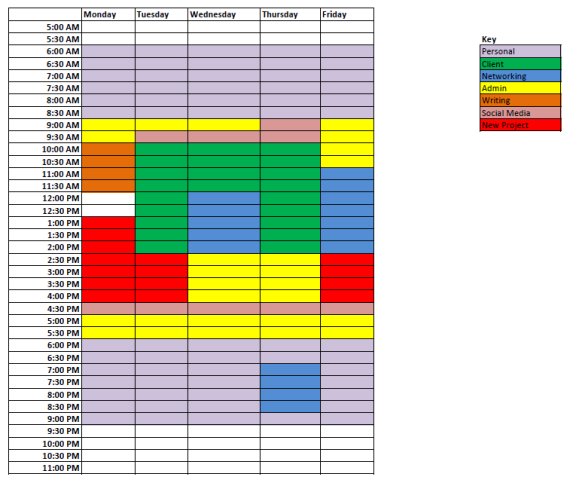 As you see I typically reserve all day Monday and Friday morning for working on my business, and Tuesday, Wednesday and Thursday for networking and client work. As with all things there are exceptions. For example I have a group that meets quarterly all day on Mondays so of course that week I have to move some things around. It also allows me to schedule things instead of just doing them in the moment. Best of all when I find myself off track, the structure is there for me to step back into.
Do yourself a favor this year as you continue to grow your business, add the structure that will support you and your business.
---
Want to use this article in your newsletter or blog?  Please feel free, we love to share. Here is what you must include:
Jane works with Women Entrepreneurs & Business Owners who are Overwhelmed.  My focus is helping them regain clarity, let go of ambiguity, uncertainty and fear, while bringing focus to their goals and objectives.  I ask the hard questions knowing that you're ready to answer them. My clients and colleagues call me a thought provoking Business Therapist.
Women Entrepreneurs in Business (WEiB) an online membership group dedicated to supporting women entrepreneurs in creating a business that feeds their soul and pocket book.
The Sage – Grow Your Business an in-person program designed to help women entrepreneurs increase sales and expedite growth of their business.
Jane is also the author of Put Your Big Girl Panties On and Kick Your Fears in the Ass.
Additional information is available at www.lovasconsulting.com. Contact Jane by email jlovas@lovasconsulting.com or by telephone at 703.981.3157