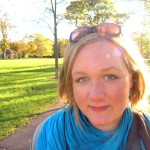 Rachel Allen
Company Name: The Wrevolution
www.thewrevolution.com
Overview of your business:
I write words for websites and teach other people how to do that too. Or if you prefer the more corporate-speak version, I'm a web copywriter, editor, and writing coach.
What makes you unique?
I have a very distinctive voice and set of beliefs about work, and I only work with a specific type of client: someone who is so into what they're doing that sometimes they can't even talk about it because it sounds weird to be so excited about nutrition, or social media, or whatever they do.
They know they could go anywhere to get some generic copy banged out, but that's not good enough for them — they want a copywriter who's as geeked out about her work as they are about theirs.
Why do you do what you do?
I run the Wrevolution for one reason: I genuinely believe that creative work is inherently revolutionary, and that giving up on it is an enormous waste of talent, energy, and humanity.
What pain do you solve for your clients and how is their life or business changed because of working with you?
So whether I'm helping out brilliant entrepreneurs who can't run the business they want because their words are letting them down or teaching a group of people how to figure out who their readers really are deep down so they can become better copywriters themselves, it always comes back to that underlying belief.
When clients come to me, they feel frustrated because they know they could do something amazing, but something about their writing is holding them back. I help them put their best face forwards using words to hook their ideal clients right in the gut and to show the people they don't want to work with that they should go somewhere else.
What do you do for fun, what brings joy to your life?
I love to travel and live in different places — that's one of the reasons that I decided to build a business that would allow me to work as a digital nomad. My latest day-to-day downtime activity has been hanging out at hole-in-the wall blues bars: 12 bar blues and a whiskey on the rocks is my Friday night of choice.
To anyone who is thinking that they might want to work for themselves but is scared: that's fantastic, because it means you're greatness-adjacent. Don't let the fear stop you, because the only person who can decide whether you really live this life or just float along in it is you.